Eagle Rest Night Hawk out of Spotted Saddle Horse
Dazzie is another great saddle mule from Brayer Hill Farm bloodlines. She's out of a gaited mare and looks just like her big sister Brayer Hill Razzle Dazzle. If you've seen Razzie and liked her, little sis Dazzie should catch your eye, too.
Dazzie has been chosen by Jim to be Bubba's back up and replacement.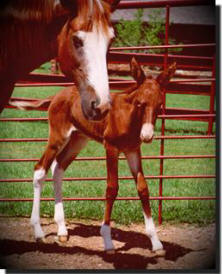 Foaled April 21, 1998
Photos taken at 5 Hours Old
Mare Mule
Imprinted